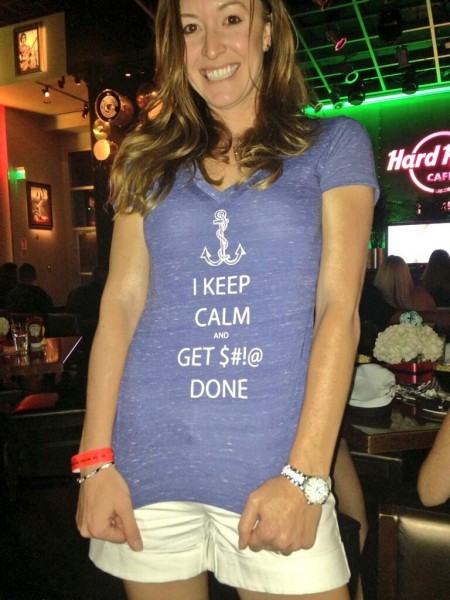 If you've been watching Below Deck on Bravo TV and have seen yourself agreeing more with #TeamAdrienne, then you need to show your support by getting your own "I Keep Calm and Get $#[email protected] Done" t-shirt, as seen here being worn by Adrienne Gang, Chief Stewardess on the show.
Jason Bean, a.k.a. "Bnpositive" (also the designer of this website — thanks, Jason!), shared the idea for the t-shirt while Adrienne was here in Indianapolis doing a book signing and viewing party of the show. After putting our heads together, the idea came to create the shirt and use sell it to raise funds and awareness for Adrienne's efforts to rid the world of GHB perpetrators after having fought through her own personal ordeal this past December, "'Below Deck' star Adrienne Gang: Is your drink spiked?".
You can order your own shirt online and have it shipped right to your door! All proceeds from the sale of these shirts will go to support the  Crisis Center of Tampa Bay and other efforts by Adrienne to increase awareness of the dangers and risks of this drug and provide resources to help keep innocent women safe.
And kudos to Adrienne for making a former fellow-stew (me) proud this season on Below Deck.