One of the joys of being a yacht steward/ess is keeping things fun—for the guests, and even the crew. If you have a knack for entertaining, you will love this aspect of your job: having theme dinners and throwing parties!
Remember, your guests are on vacation, and when the yacht is anchored away from land-based activities, it's up to the crew to keep things interesting. Not to mention, going out of your way to add these special touches could very well boost your tip.
Simply adding a theme to one of your dinners is something most any group will enjoy. For this, play up a menu theme with table decorations.
Serving Thai? Scatter orchids and peony blooms around a light pink tablecloth; hang white lights on the potted deck trees; use glimmery gold napkins rolled up and tied with bamboo string; and even bust out the tiki torches.
On the other end of the spectrum, don't just stop with dinner: Plan an entire evening around your theme, including activities, games, and even costumes for the guests to wear. This is your chance to make a huge impression on your clients and to create an experience they will cherish. I've had guests be moved to tears over some of the evenings we made special for them.
In fact, it's a good idea to build up a small "library" of themes guests can choose from if they are interested in having a festive evening (and make sure it's a line item in your budget). Feel free to borrow from my list of guest favorites below:
Theme Night Party Suggestions
Casino / Poker Night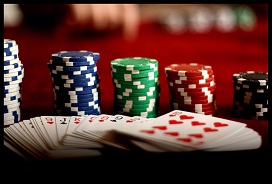 Have a poker tournament! You'll want to buy Vegas-style decorations, green felt to cover the table, and make sure you have at least 50 poker chips per player available. Scatter dice, gold coins (chocolate, perhaps), and decks of cards around your buffet table. Bite-sized hors d'oeuvres are great for this party… and LOTS of cocktails.
If guests wish to dress up for the occasion, have bow ties, feather boas (check out this money boa!), cigarette holders, and costume jewelry on hand. For crew (who can serve as dealers and cocktail waitresses), think about green plastic dealer visors for the guys and Playboy bunny ears for the gals ("cigars, cigarettes!"). Low lighting and white Christmas lights strung about are a nice effect, as is playing a James Bond movie soundtrack to set the mood.
Pirate Night
You can find fun pirate costumes for this occasion at any party store. Look for eye patches, bandanas, plastic swords, black-and-white striped shirts (which can also be used for Venetian Night parties), pirate hats, costume mustaches and beards, and fake "hook" hands.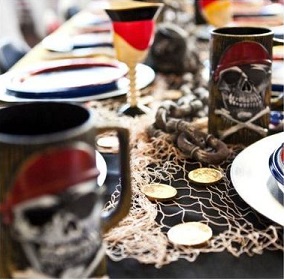 For a sit-down dinner (seafood, of course), use a treasure chest filled with plastic gold coins, costume jewelry, and silver crinkled paper as a centerpiece, and maybe have a pirate hat at each place setting. Set out a few plastic skulls on the sideboards, some empty bottles with the word POISON on them (or slap a sticker over the label of the wine you're serving—after it's been presented), and hang pirate flags. For post-dinner activities: send your guests on a treasure hunt (give them maps that send them from deck to deck) or have them partake in some swashbuckling. To get people more into character, pass out a list of good pirate lingo everyone can use. Visit TalkLikeaPirate.com for ideas.
Hollywood Night / Oscars Night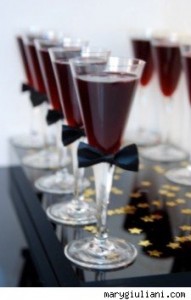 There are a ton of variations on this one: use it for a Cannes Film Festival party, an Oscars party (or any film awards celebration), or quite simply, a movie night. For your dinner table or buffet, use a black tablecloth with silver and gold confetti. A centerpiece could feature director's clapboards, film reels, rolls of "Admit One" tickets, silver and gold stars, and tragedy/comedy masks. A red carpet runner leading into the salon from either the deck or dining room is also a fun touch. For music, if you're not playing songs nominated for some awards show, throw on some sounds from The Rat Pack era. And if the party is to accompany a film awards show, hand out ballots to let your guests vote first—make it a contest.
For costume ideas, refer back to my suggestions under Casino/Poker Night (the same will work here). Another suggestion: I once purchased two dozen mini plastic Oscar trophies, and we used this Hollywood theme on the last night of several charters as an opportunity to "award the guests" for silly things like "best use of sun deck," "most improved water skier," and other inside jokes among the guests and crew. This is a great way to end a trip (that's a wrap!).
New York, New York / Broadway Night
Here is another variation to the Hollywood Night, as you'll use the same glitz and glamour costumes and a lot of the same gold and silver decorations. A New York, New York / Broadway Night is always a blast, especially if you have a piano onboard, or if you have guests who like to Karaoke to Broadway Show Tunes. Hang musical note cutouts, posters of New York City scenes (Marilyn in Times Square is one to shop for), and make your own "Big Apple" sign. For a more elaborate back-drop, wrap various-sized cardboard boxes in black wrapping paper, pasting on little silver squares (these are windows), stack the boxes about and add some strands of Christmas lights and white cotton on top, and—voila!—you've got a line of skyscrapers! Whatever you come up with for a menu, New York-Style Cheesecake is a must for dessert.
Disco Night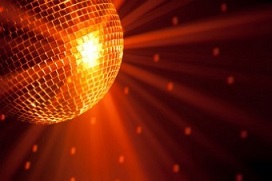 Hang that disco ball on deck, and get ready to see the guests pull their favorite John Travolta moves. In fact, why not have a disco-dancing contest to liven things up a bit? Put together 70s compilation playlists—Donna Summer, The Bee Gees, The Village People, and Gloria Gaynor are always popular. Another fun activity is to hold a lip sync or Karaoke contest. Better yet, do the Hustle!
A great 70s-style meal idea is to throw a fondue feast. Sprinkle gold and silver star confetti around the dinner or buffet table. To set the mood (going for the Studio 54 effect here), use black/strobe lights and lava lamps. "Scenes of the 70s" on the walls make great additions—a Saturday Night Fever or Boogie Nights movie poster, perhaps. Costume considerations: polyester leisure suits, halter/tube tops, bell-bottom pants, afro wigs, big sunglasses, gaudy belts, gold chains and scarves, flashy wrap dresses, and glow jewelry.
Pajama Party / Movie Night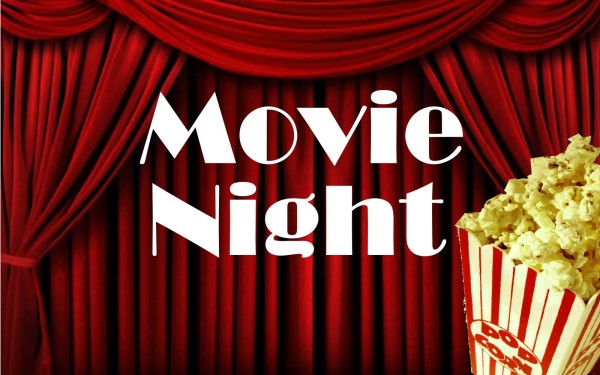 A great option when there's rough weather! Have your guests head to the main salon donning their sleepwear (and if that's too risqué, there's always the guest robes). Tie this in with a movie night—huge bowls of buttered popcorn all around (caramel corn is a nice treat). Another option would be to break out the board games or play good old-fashioned rounds of Charades.
If you are going to do a sit-down dinner beforehand, I've seen some very clever things done to transform a main dining room table into what looks like a bed. Just use sheets as a tablecloth and then come up with a makeshift headboard. Add a pillow, give the sheets and top blanket a turn-down, perhaps use a few throw pillows, and maybe even add a teddy bear. Having an ice cream sundae bar is another great idea.
Toga Party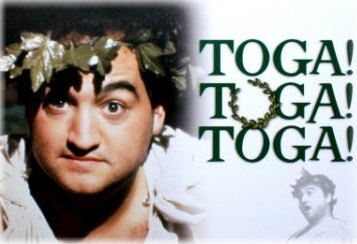 A perfect theme when you're cruising around Greece or Italy. Serve a Greek meal and keep the red wine flowing. For your toga table, try artificial fruits (especially grapes), foliage, gold laurel leaf garlands, fake columns (you make some out of cardboard or papier-mâché), and whatever else you feel fits into a Greek or Roman motif. White candles are also key, not to mention lots of gold. If you have the movie Cleopatra onboard, run it after dinner—or for a wilder bunch, Animal House.
The best part of this party is the toga costumes. Have sheets on-hand that you buy especially for such an occasion; otherwise, it's a surefire way to ruin those expensive guest sheets. You might also consider purchasing white fabric for the costumes, as that will be even cheaper. If purchasing fabric to make your togas, try going with a cotton blend or nylon, and go for 4 to 6 yards (3-2/3 to 5-1/2 m) for each toga (on the shorter end for shorter guests and crew). As for the width, stay under two yards. Another recommendation is that the width of fabric should be the same as your height, with the length of fabric being about three to four times your height. Accessorize with gold belting, Roman rope belts, leather straps, and ivy covered wire or told laurel leaf wreaths for headdresses. Below is a good tutorial for how to make several different styles of toga:
Cowboy / Western Night
Yeeeee-haw! If your guests are game for a luxury hoedown at sea, here are some ideas: Create a "WANTED" invitation to place on your guests' beds during the afternoon. Ask them to come dressed in denim, and when they arrive for dinner, provide cowboy shirts and/or hats, bandanas, fringe, and toy gun holsters. You could also have Zorro masks available.
For dinner, serving barbecued anything is a fine choice, as are variations of the standard "meat and potatoes" meal. Use red or yellow gingham accessories and lanterns to decorate your table, with rope lassos as garlands and Sheriff's badges as napkin rings. Some other great wild west decorations to make or shop for are horseshoe cutouts, fake cacti, and a sign reading "Saloon" for over the bar. Be sure to play Country Western music, as your guests may be up for some square dancing after dinner.
Mexican Fiesta Night / Cinco de Mayo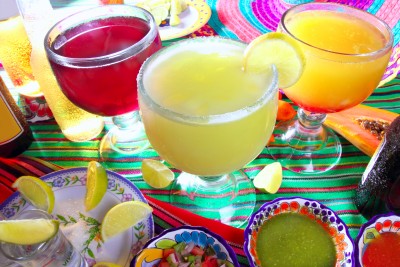 This is a great one for Cinco de Mayo, or to accompany a Mexican-style meal. Sombreros and ponchos make excellent costumes, as do embroidered shirts and twirly skirts for the women. Hang serapes (traditional Mexican blankets) or roll them up and place them around the dining room or deck. For a centerpiece, look for fake cacti, maracas (include a set at each place setting), and anything with a chili pepper theme. Play some mariachi music on the stereo, and for an after-dinner treat, I've got one word for you: piñata.
Some Additional Themes to Consider:
Venetian Night
Safari/Jungle Night
Tropical Island/Luau Party (maybe as a beach BBQ)
Jimmy Buffet Night
Moroccan Feast Night
Arabian Nights Night (Moroccan chic)
80s Theme Night
Viking Night
Traditional Tea Party
Mardi Gras Night
Martini Theme Party
A Few Final Tips:
You need to think about various theme dinners and parties you could throw far in advance so that you are prepared when different holidays or events spring up. For example, will you have Americans onboard over Fourth of July (when you are in Sardinia)?
Beware that not all guests will get into the fully planned evenings, so you'll want to run it by them before going too all-out with a party idea.
Send a list of your theme dinner/night options along with your preference sheets so that guests have an opportunity to express their interest ahead of time. This way you'll know what decorations and costumes to have pulled out from storage when their trip begins.
White Christmas lights are your best decoration investment: they fit almost any party theme. (Warning: Don't wait to shop for them in Malta in July. I did that once.)
Get creative! The guests understand that you are going to have limited resources.
And above all: have fun with it.
Yacht Stew Party Supplies
Check out the Amazon store of yacht stew resources I've created to see if any of the items are what you need to get planning a fabulous theme night for your yacht-charter guests. Some are slightly gimmicky—maybe not posh enough for superyacht parties—but many will suffice. Believe it or not, when there's a fun theme involved, yacht charter guests can be very forgiving. After all, you're at sea. Regardless, even if these exact items don't fit the superyacht bill, you'll at least get the idea and can shop elsewhere for a higher grade quality of the same thing. Party on!


Julie Perry is a former yacht stewardess and the author of the book, The Insiders' Guide to Becoming a Yacht Stewardess: Confessions from My Years Afloat with the Rich and Famous 2nd Edition (August 1, 2013). Pick up your copy of this must-have guide to landing a crew job aboard a luxury yacht today.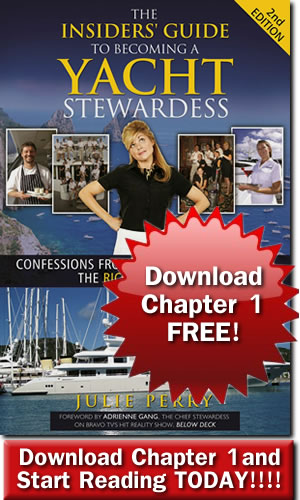 The interior staff generally have more interaction with guests or owners on a daily basis than any other crew member. Very often a guest's overall experience onboard a yacht—good, bad, or indifferent—will be based on this interaction. A stewardess has the power to truly make the onboard experience exceptional."
—Julie Liberatore, Regulatory Liaison Maritime Professional Training (MPT)