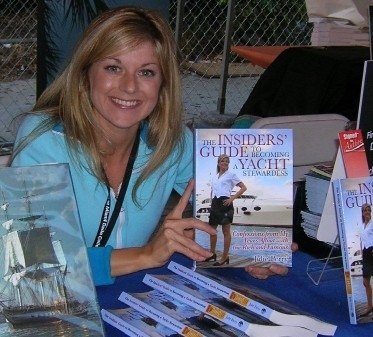 Julie Perry spent three years as a superyacht stewardess, which took her to over 40 ports in 18 countries. And she can tell you how to do it, too. The first edition of her book, The Insiders' Guide to Becoming a Yacht Stewardess, has been a must-read guide for yacht crew since 2006. With the release of her updated, second edition in 2013, Julie continues to help wannabe "yachties" get into this awe-inspiring industry—if not simply entertain those intrigued by such a career path.
Currently a digital-marketing executive living in landlocked Indiana, Julie stays connected to the yachting community by attending yacht shows year-round and speaking at marine-industry events. She has been a member of the U.S. Superyacht Association (USSA) since 2013, where she has served as a digital marketing consultant, running the Association's social media and digital advertising campaigns. She is also frequent speaker on marketing topics at superyacht and marine-industry events, including events held by the Northwest Marine Trade Association, Marine Marketers of America, International Superyacht Society, and Chris-Craft Boats
As a USSA Board Member and the Marketing Co-Chair since 2019, Julie remains very active in the larger superyacht industry worldwide, with particular interest in keeping up to date with issues surrounding yacht crew and the recruitment and training of quality crew, who she believes are the lifeblood of the superyacht industry.
While she doesn't necessarily miss cleaning toilets for the world's wealthiest, she does miss traveling the high seas with them… Instead, she writes about it.
"Trust me, if a non-bed-making, non-laundry-doing, hardly-ever-cleaned-her-room-during-adolescence, scatterbrain from landlocked Indiana can do it, anyone can!"
– Julie Perry, Author
Julie Perry Speaks About Becoming Yacht Crew
The following two videos are from a book talk given on January 18, 2007 at Bluewater Books & Charts in Fort Lauderdale, Florida. While we realize these videos are a bit old, the information is still very much relevant today.
Working on Yachts: Why Become a Luxury Yacht Crew Member
Yacht Crew Jobs: An Overview of Crew Positions, Benefits, and Perks