When Bravo TV first announced its impending reality show, Below Deck, about the upstairs-downstairs world of life aboard superyachts, Bravo executive Andy Cohen declared it was the network's own version of PBS MASTERPIECE's Downton Abbey. In fact, in an interview he did with The New York Times, Cohen even went so far as to say that he wished Downton Abbey had been Bravo's first scripted drama.
And who could blame Andy Cohen for saying that. After all, Downton Abbey is a successful show that is of extreme interest to a huge audience due to the fascinating juxtaposition of these two worlds: the upstairs (the privileged class) and the downstairs (the servants to the privileged class).
Julian Fellowes, the creator and writer of Downton, is also the author of the Oscar Award–winning screenplay Gosford Park, which, like Downton Abbey, is centered around the interrelated lives of the servants and family of a particular household. Fellowes has said of Gosford Park:
There is something intriguing about a group of people living in such close proximity and yet with such different expectations."
And in the case of Gosford (and the same can be said of Downton), Fellowes was referring to that interplay of upstairs-downstairs during the Victorian Age and turn of the 19th century. You know, the era of the Titanic sinking?
The Upstairs-Downstairs Interplay in the Era of Bernie Madoff… and the Costa Concordia disaster
So no doubt Bravo TV executives liked the idea of showcasing a more modern-day Upstairs-Downstairs scenario… And one at sea even. Therefore, add in a dash of Love Boat. Or Gilligan's Island for that matter. Hey, how about Overboard with Goldie Hawn?
Here is how Bravo came out of the gates announcing the Below Deck series back on April 4, 2012:
The upstairs and downstairs worlds collide when this young and single crew of "yachties" live, love and work together onboard a luxurious mega yacht while tending to the ever-changing needs of their wealthy, demanding charter guests." —Bravo TV
What makes things even more fascinating about Below Deck, and the modern upstairs-downstairs example of superyacht crew tending to their insanely wealthy guests, is that we have crew from what are typically middle-class upbringings, who are most often educated (at least in a trade), and who have CHOSEN to do this profession.
Contrast that with what we know of Victorian Age history and the Downton Abbey time period, when the class structure was much more rigid and many were FORCED into servitude by nature of the class they were born into…and could not escape. The upstairs / downstairs pairing is a (seemingly) paradoxical juxtaposition to watch play out in 1911 on Downton, let alone in 2013 with a bunch of girl- and guy-next-door types who have turned their backs on the alleged "American Dream" to become indentured servants, sailing around the world cleaning toilets for the rich and famous "one-percenters."
Then throw in the extravagant yacht, the exotic travel destinations, and the world-class culinary creations — and POW: You've got yourself quite an intriguing show concept! Nice job, Bravo.
Now that we've looked at how the two show concepts compare, just for fun, I thought I'd play around with Below Deck Season 1's characters and how they matched up (or didn't) to their seemingly equivalent characters on Downton Abbey… Only up through Season 3, of course, since they haven't bloody aired Season 4 yet on my side of the pond:
Character Equivalents – BELOW DECK vs DOWNTON ABBEY

Okay, so in the photo at the top of the page, I did not include Captain Lee. Here below, I do:
Let's break that down, shall we?
Mr. Carson – Is it Aleks or Captain Lee who's the closest match?

On Downton, Charles 'Charlie' Carson is the head butler at Downton Abbey. He is referred to by the staff as "Mr. Carson." Mr. Carson is in charge of the pantry, wine cellar, and dining room, as well as the male staff who report to him. (Okay, so that's about as close as I can get to being "in command of the whole damn ship.") Downton's Mr. Carson takes his responsibility for the estate very seriously. He has a fatherly disposition over the servants and comes across intelligent, honorable, and no-nonsense.
This was a tough one. After all, Captain Lee was not credited on Below Deck. If we were to overlook him though, then Aleks Taldykin in his role as the First Mate would be Mr. Carson's Below Deck counterpart. And, after watching the lame leadership skills Aleks exhibited in the final few episodes of Below Deck (you gave that brat her tip money back!?), I hardly think that's appropriate. Either way, this selection needs to be the guy who ultimately heads up the staff (crew).
After watching the full season of Below Deck, and based on my own experience as a superyacht stewardess, I feel Captain Lee made decisions that a truly professional captain would make. It is also Captain Lee who comes across as the real leader. Whether or not you agreed with is leadership style, his job isn't to be a friend. In the face of crew insubordination and lack of professionalism, and even in the instance where the crew's stupid errors in a fire drill could have meant the difference between life or death, Captain Lee is the over-the-top choice for who I know I'd feel safe both working for and traveling with out at sea.
So the character-equivalent "Honor" (pun intended) goes to Captain Lee. After all, I know few Downton fans who would argue that Mr. Carson doesn't command respect from his staff and get the job done the way it should be done, and not according to his desire to be liked by his staff.
So that makes Aleks simply a "wannabe Mr. Carson." (Or, to be blunt, a wannabe Captain Lee.) So Aleks is really more like Downton's Thomas… but that spot is already taken in this game.
Mrs. Hughes – Adrienne Gang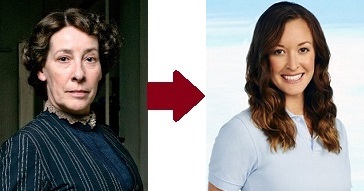 Chief of the interior department, and the character exhibiting (in my opinion) the most focus on the task at hand (providing service), Adrienne Gang is an easy choice for the Below Deck crewmember most akin to Downton's wise and experienced Mrs. Hughes. Both of these women exhibit professionalism; although Mrs. Hughes comes out stronger in the effective managerial-approach department.
Mrs. Hughes is the head housekeeper at Downton Abbey, and as such, she watches over the female staff. Outwardly prim and somewhat strict in her manner as housekeeper, she is essentially kindly and generous, as shown when she assists Downton's Ethel Parks after she leaves her position and has a baby out of wedlock.
While Below Deck's Adrienne has been criticized by fans for not sticking up more for Kat when guests on episodes 4 and 5 sexually harassed her, Adrienne later addressed Kat's drinking problem, I believe, out of an effort to help her and prevent her from being fired. Adrienne also later came to Kat's support when Chef Ben called Kat some not-so-flattering names. (That "trailer park, demonic, white trash refugee" line that the show's editors pretty much over played.)
Bottom line though: Mrs. Hughes is a tough task-master. And Adrienne Gang as a chief stew is not only that, but she's a list-master too. And I bet Mrs. Hughes had a tendency to write a lot of stuff down.
Mr. John Bates – C.J. the 2nd Engineer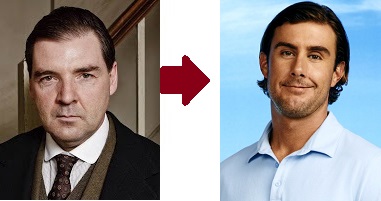 John Bates, who is mainly known as Mr. Bates or just Bates on Downton, is Lord Grantham's valet. Yes, I know this is a bit of astretch, but I believe C.J. Lebeau is similar to Mr. Bates more than any other Below Deck character.
Okay, so C.J.'s duties as 2nd Engineer are not very similar to those of a valet, who is tied more to guest services. But one of the main reasons I have chosen C.J. as the Mr. Bates equivalent is due to the "romance" C.J. had with 3rd stewardess Sam Orme on the show.
Of course, unlike the Downton Abbey romance between Mr. Bates and Anna, the one between C.J. and Sam did not have quite the same effect. I mean, did anyone really find themselves rooting for C.J. and Sam to consummate their feelings for each other? (Wait, did they really even have feelings for each other?) Furthermore, Downton's Mr. Bates and Anna are among the most likable characters on the show. C.J. and Sam? Not so much. (Yes, I said it was a stretch.)
So what's another commonality between Mr. Bates and C.J. that we can reach (really really far) for? Well, Mr. Bates previously served in the British Army alongside Lord Grantham and suffered an injury to his right leg. He arrives at Downton in the first episode carrying a cane, and the Downton staff became upset at the thought that they might have to pick up the slack for him, due to his disability slowing him down in the large house.
How does Mr. C.J. relate to a lame valet with shrapnel in his knee? (Does the condition "endocarditis" ring a bell? Especially with regard to skipping out on assigned duties.)
And finally: On Downton, Mr. Bates is put under suspicion and later sent to prison for allegedly poisoning his estranged wife's pie with rat poison. That sorta sounds a bit like C.J.'s post-Below Deck escapades where he was arrested for alleged assault on his girlfriend, which resulted in this not-so-flattering mugshot:
O'Brien – Kat Held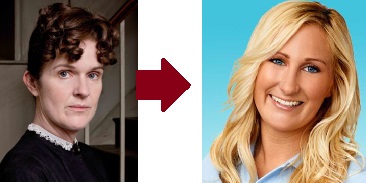 On Downton Abbey, Miss O'Brien is Lady Grantham's personal maid. She is especially bitter and resentful towards most of the other servants, and while Below Deck's 2nd stewardess, Kat Held, comes off as a more friendly and gregarious soul, we do see a few instances of a Miss O'Brien-like attitude, such as when Kat lashes out at Ben after he decides to take her up on her initial request to switch cabins. She initiated it, but once she got what she wanted, she was angry.
Aside from little behavior patterns like that though, on the whole, I find about the only real point of comparison between O'Brien and Kat to be their daily tasks at work. Otherwise, O'Brien is a watchful, vengeful, malign spinster. Nothing like the fan-favorite, Kat Held. Honestly, if it weren't for the Bates-Anna romance being an obvious comparison to C.J.-Sam, then Kat would otherwise be sweet and adorable Anna's counterpart.
Well, okay, one more similarity: Kat's lying about drinking (which we now know from the Episode 10 Cast Reunion show was a fib to get her out of being fired). Does that somewhat remind any Downtown Abbey fans of the time O'Brien is mistakenly led to believe that Lady Cora intends to replace her, and in an act of vengeance deliberately leave a bar of soap beside the bathtub — and after Cora slips on the soap and suffers a miscarriage, O'Brien still never fesses up? Oh wait, well, Kat did fess up to her lie. Nevermind.
I guess on the drinking tirades, about the only Downton equivalent would be Mr. Molesley at the Gillies Ball. (And only REAL Downton fans oughta get that.)
Mrs. Patmore – Chef Ben Robinson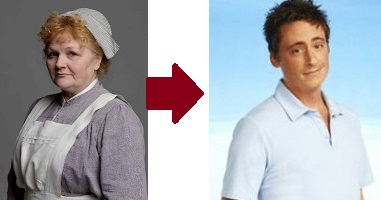 Beryl Patmore is the cook at Downton Abbey. Known as Mrs. Patmore, she is a cuddly plump woman in charge of the kitchen and kitchen staff. It's obvious then, right: Chef Ben Robinson is her counterpart.
Similarities between Downton's Mrs. Patmore and Below Deck's Chef Ben Robinson? Well, they both take great pride in their cooking and are perfectionists in the kitchen. On Downton, when the food is not met to Mrs. Patmore's exacting standard, she lets her frustration out on other maids, especially Daisy. Chef Ben was known to have a few harsh words with some of the M/Y Honor stews popping in and out if his galley, but at least he never really got to the bossing around and shouting point that Mrs. Patmore does with Daisy.
So the only glaringly obvious similarity beyond cooking: the British accent.
Okay, and while I wouldn't call Ben "cuddly plump" like Mrs. Patmore, judging by audience reactions to Ben on Twitter, many believe he has the "cuddly" part down.
Thomas – Dave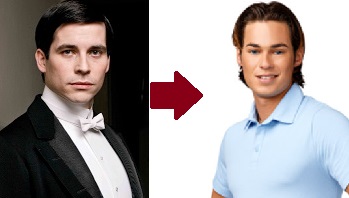 Thomas Barrow is an underbutler at Downton Abbey, having started his employment there as first footman. Thomas is scheming and conniving, which is about as opposite as you can get to Below Deck's Dave Bradberry, who was hard working, charming, and very likeable by both his fellow crew and the viewers.
So why do I choose Thomas and Dave as character equivalents then? Well, okay, the obvious reason is that both gentlemen are homosexuals. But I'd also say they are both among the most quintessentially good looking characters on their respective shows. (Have you seen Rob James-Collier, the actor who plays Thomas, outside of Downtown Abbey? Ummm.)
Anna Bates – Sam Orme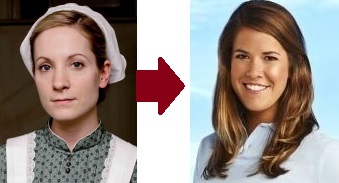 Anna Smith, later Anna Bates, is the head housemaid at Downton, so right off the bat it's not the best comparison to align her with Below Deck's 3rd Stewardess, Sam Orme. Honestly, about the only real reason I chose her was to make a play off of the Mr. Bates-Anna and the C.J.-Sam romances. The similarities stop there though. Not only is Sam not in as high of a position as Anna was on the Downton staff, she is also not nearly as hard of a worker as Anna. Nor as likable. Nor as kind and humble. Nor as (okay, I'll stop).
Anna is clever and resourceful, and Sam may be clever, but she never really shows it with regard to her job. Instead, she just keeps reminding us of her degree and the fact she can "solve friggen rockets". (I can't see Anna ever touting her seamstress abilities in that manner.)
So honestly, no, Sam is nothing like Anna, whose kindness and loyalty is to be admired. But yes, the romance links with Mr. Bates and C.J. made sense. Otherwise, Anna is probably best akin to Kat, who was very skilled at her job.
Branson – Eddie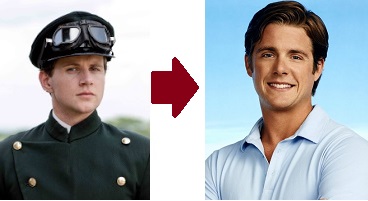 Lord Grantham's spirited, Irish chauffeur, Tom Branson, who later marries Lady Sybil, is most similar to deckhand (now bosun), Eddie Lucas. For one, their positions on their respective staffs are very similar (after all, Eddie is most often seen driving the tender boats to run guests to and from shore). And for two, they both are quite handsome with their boy-next-store charm.
And let's face it, it was either that, or this guy:
So there you have it. Below Deck Season 1 is now history, and there's no telling what characters will be back for Season 2, which is now confirmed and actively being cast.
Personally, I'd love to see Captain Lee, Adrienne, Kat, Chef Ben, and even possibly Dave and Eddie back. (If so, more screen time for Eddie please; he's funny!)
But even more, I'd like to see a greater focus on "the upstairs" and what those characters can bring to the table. Let's face it, Season 1 of Below Deck was a tad bit one-sided in terms of character development. LOTS of Downstairs and very little realistic glimpses at the Upstairs. And take it from me, that's one of the richest territories to mine for drama. (Yes, I said "richest" on purpose.) Fingers crossed that we see some more drama in that other half of the equation in Season 2!
In the end, I still think the upstairs-downstairs world of superyacht owners and charter guests juxtaposed with the crew who serve them might be more revealing as a scripted show. But that's a topic for an entirely different post.

Note: The Foreword is written by Mrs. Hughe…er, I mean, Adrienne Gang.