Welcome to the World of the Rich and Famous…
Travel, Adventure, and Multi-Million-Dollar Yachts
A sea of opportunity awaits you in one of the world's most exciting industries: LUXURY YACHTING.
Part how-to guide, part travelogue, The Insiders' Guide to Becoming a Yacht Stewardess: Confessions from My Years Afloat with the Rich and Famous not only outlines the step-by-step process to getting a job on a luxury yacht… it also reveals what life is really like aboard these oceangoing toys.
And our updated, 2nd edition was just released in paperback AND e-book formats on August 1, 2013! Order now on Amazon.com!

Imagine yourself:
Living basically expense-free on a floating, five-star hotel with the chance to explore such exclusive celebrity hot spots as St. Tropez, Portofino, and St. Bart's…
Getting paid outstanding money to travel in style aboard these $5 million+ mega vessels (and we're NOT talking cruise ships here!)…
Networking with a high-profile, jet-set crowd as you venture to the most exotic and remote ports in the world… This is work abroad at it's FINEST!

Learn HOW in Julie Perry's The Insiders' Guide to Becoming a Yacht Stewardess, and get hired onto a luxury yacht in no time!
"While there's no such thing as a guarantee in this life, Julie Perry's guidance is as near to fail-safe as a person can get. As a fellow traveler, I was shown by Julie, step-by-step and in detail, exactly what needed to be done to make the dream of working in luxury yachting a reality. She was insightful, accurate, and hilarious at every turn and hurdle, explaining precisely what obstacles and adventures lay before me as I started from NOTHING. Thanks to Julie and her wealth of information, I was able to work, live, and play on one of the more prestigious charter yachts in the world and explore some of the most fabulous destinations throughout France and Italy. If you've ever wanted to change your world, see the world, and have an incredible time doing it, this is the book you NEED to read. Thanks, Julie… I OWE YOU."

–Jim Bray, a former deckhand and mate in the yachting industry
Read dozens of testimonials from Julie's readers here.
About the Book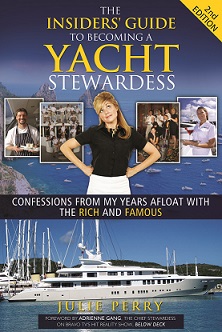 Let seasoned travel professional Julie Perry be your guide to the private domains where royalty, celebrities, and billionaires vacation. Julie spent nearly three years visiting exotic destinations working in the midst of unbridled luxury. This Insiders' Guide is based on her work experience, interviews with yacht industry experts and recruiters, as well as accounts from her own personal journals.
First published in 2006, this guide has been read by thousands of yacht crew, owners, industry representatives, and even superyacht enthusiasts with an interest in this unique and awe-inspiring world. And now, updated to reflect recent changes in the superyacht industry, the 2013 edition is dedicated to making YOUR journey into yachting as easy and hassle-free as possible…
"Trust me, if a non-bed-making, non-laundry-doing, hardly-ever-cleaned-her-room-during-adolescence, scatterbrain from landlocked Indiana can do it, anyone can!"
~ Julie Perry, Author
The Insiders' Guide to Becoming a Yacht Stewardess is divided into two parts.
Part I, "The What Industry?," comprised of Chapters 1–5, delivers a comprehensive introduction to the world of luxury yachting, and what makes this industry—and the jobs within it—unique, including:
What luxury yachting is all about and how it differs from the more familiar styles of pleasure cruising on big commercial ships…
Who travels aboard mega and superyachts, not to mention who owns them, how big these vessels are, and how much they cost (get ready for your jaw to drop!)…
The various worldwide destinations these glamour vessels frequent—places you, too, can visit if you decide to pursue this line of work…
Take a step inside a yacht and get a feel for the degree of style and extravagance these boats possess…
How much money you can make as a yacht stewardess or steward, as well as what other benefits accompany this incredible job…
A brief run down of the various other crew positions (from deckhands to chefs and engineers) available on a yacht along with job descriptions and how they are organized.
Two full chapters devoted to a yacht stew's responsibilities and what your daily duties may include. This is about as comprehensive as it gets!
Candid and colorful stories from the autho''s own personal journals-at-sea (GUARANTEED to entertain!)…
From the pay to the people and back to the travel, this Insiders' Guide also covers all the perks that make luxury yachting such a dynamic and incredible career path…no matter what your background!
More About the Book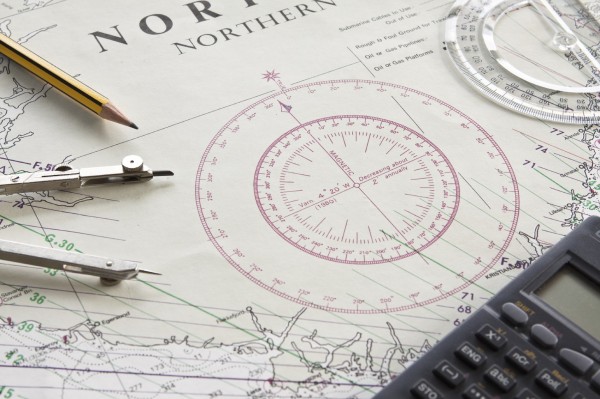 By the end of Part I, you should have a good grasp on what being a yacht steward/ess is all about. If you feel you're up for the challenge, you will be perfectly primed to begin the process —and that's where Part II, "Getting Hired" (Chapters 6–11), picks up: the actual "how to."
Based on Julie's own work experience and interviews with yachting industry experts and recruiters, the second half of the book delivers all the exclusive advice and practical guidance you need to get started—and succeed!—as a luxury yacht stew, including:
An easy-to-follow Quick Start Guide (The A to Z of How to Become a Yacht Stew) outlining each separate step toward landing your first job. This helpful reference can be used as a checklist during your search for employment…
Suggested courses to enroll in as entry-level crew and recommendations for non-mandatory training classes that will increase your chances of getting hired quickly…
Exposure to the types of skills and personality traits future employers will want you to have…
Resource lists and contact information for crew recruiting agencies, crew training schools, and crew housing options in the U.S., Europe, and Australia…
Key information on obtaining passports and travel visas…
Insider tips on how and where to network in the hub hiring ports around the world…
Recommendations to help you fund your job hunt and conduct your job search online…
An entire chapter on putting together a winning résumé/CV, how to prepare for and handle interviews, and even how to choose which job you want once you've been bombarded by employment offers…
What life is like "out there"—what to know once you've landed that first job…
An examination of careers that work on yachts can prepare you for—whether it's in another part of the industry (at sea or land-based) or doing something in an entirely different field (the future is bright, indeed!).
EXTRAS: A Sample Mediterranean Cruising Itinerary, Guest Lunch and Dinner Menus, Sample Résumé/CV, Glossary of Culinary Terms
With the insider tips and advice delivered in this career guide, you will be shocked to discover how it's much easier to get one of these dream jobs than you probably ever imagined!