The Insiders' Guide to Becoming Yacht Stewardess Launches Second Edition
Updated book explores the yachting industry and teaches how to become yacht crew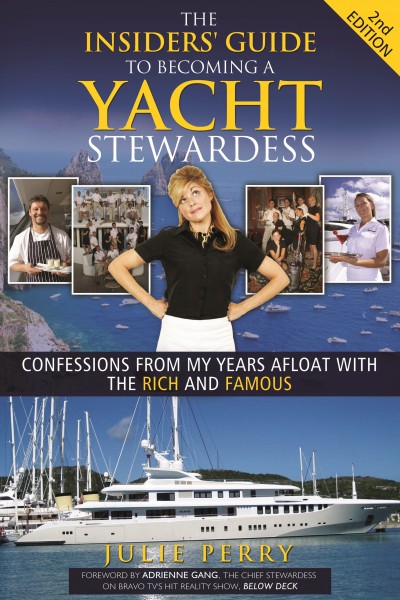 Well, that's the headline for the official press release anyway. But rather than repeat what is being pitched to media outlets via my incredible PR team at BLASTmedia, I want to get a little personal and say that I am OVERJOYED to announce that nearly seven years since "her" (yes, like boats, I refer to books in the female gender) original publication date of Oct. 1, 2006, The Insiders Guide to Becoming a Yacht Stewardess: Confession from My Years Afloat with the Rich and Famous has been revised, updated, and I would say vastly improved in her second stage of life as a 2nd Edition. (She is, after all, over 50 pages longer—so there have been a LOT of changes in the industry that needed to be addressed.)
Example: When I wrote the first edition of The Insiders' Guide seven years ago, the only people on Facebook were college students. In fact, MySpace (remember it?) was the place to be at the time; and goodness knows I made a valiant effort at getting the word out over there.
With social media now being used by most everyone with Internet access (and thumbs for that matter), it was certainly a new issue to address with regard to crewing in the yachting industry, where discretion is paramount. In the 2nd edition, I address being active on social media while working on a yacht, but more important for entry-level crew simply exploring this career path, I include a ton of information about how to conduct a job search online, as well as the pros and cons of online job hunts.
Other changes that have occurred include, oh gee, let's see, well, there was the fallout of our economy in 2008. (No big deal, right?) Yes, certainly the global economic crisis caused a lot of yacht owners and would-be yacht owners to hold off on signing contracts to build new boats.
But, that does not mean there's no chance you'll "land" a job at sea.
In fact, like any industry, the yachting business is always looking for hard-working, dedicated individuals. With well over 6,000 megayachts over 80 feet (24.4m) in the world today, believe me, there are a lot of crew jobs to be had.
And, even though the yacht construction boom of the last decade went bust, there still are some super-size yachts being built in need of new crew with the right attitude.
Keep in mind the following great information that one experienced crewmember gave The Triton, a leading yacht-crew newspaper, in January 2012 when it asked readers to share their advice for newcomers to the industry:
It's OK to be green. Entry-level jobs are more about diligence than skill. Having a can-do attitude and performing all tasks to a high level is important. You have to earn responsibility, and this comes when you show you can take pride in any job."
Issues related to the job market for entry-level crew  are addressed in the 2nd Edition of The Insiders' Guide, with new information on everything from interior-crew training options, new qualification standards, and even advice for dockwalking (an industry term for a common method of looking for work, which is to walk yacht to yacht with your résumé/CV in hand), which has become more and more difficult due to higher security measures at superyacht shipyards and marinas around the world. Ah, but I have some fresh tips!
Updated statistics on the largest superyachts in the world, their eccentric features, and who their even more eccentric owners are. Note: My editor on the 2nd Edition was Diane Byrne, a former Executive Editor at Power & Motoryacht magazine (she's the one who wrote the "PMY 100" list of the world's 100 largest yachts from 1994-2008, and again in 2012) and the owner and operator of MegayachtNews.com since 2007—so I can assure you we got this information mega-covered.
Current crew-salary ranges for all positions on a yacht crew, along with other revised information on crew benefits (or the lack thereof).
Discussions of new crew issues, such as rotational crew opportunities, obtaining the ENG1 exam, and ways crew can get involved with yacht-industry philanthropic initiatives, such as through Yacht Aid Global and Ports of Cause.
Information on the introduction of the PYA (Professional Yacht Association)'s Guidelines for Unified Excellence Service Training, a.k.a. G.U.E.S.T., and its various training courses for interior-crew certification (and it was certainly time we raised the bar on stew training standards!)…I tell you all you need to know about options and training centers.
Fully updated resource lists for everything from crew placement agencies, crew housing options, and crew training schools (for both STCW Basic Safety Training and Interior-Crew courses) in the U.S., Europe, Australia, and South Africa.
New advice on putting together a winning résumé/CV, how to prepare for and handle job interviews, and even how to choose which job you want once you've been bombarded with job offers.
As with the first edition, you'll find insider advice from more than two dozen industry professionals, from crew recruiters and training experts to current and former crew & captains—and yes, these tips have all been updated, with some new additions as well.
And, of course, the humorous (or so I tried) anecdotes and fun stories of my days catering to the world's wealthiest on the high seas of luxury are still in there. The feedback over the years has been that these "Confessions" are some of my readers' favorite parts of the book.
I've also included a tid bit from one of my favorite yacht-crew authors, Victoria Allman: a yacht chef whose books SEAsoned and Sea Fare are my top two recommendations for other books about what life working aboard a yacht is like. Be sure to check them out for an entertaining read!
Naturally, after seven years, there were a ton of minor details that needed to change. My editor, Diane Byrne, and stewardess extraordinaire, Kate Chastain—who also helped me to research some of the updates (and is one of my most favorite success stories from the first edition)—helped me uncover such things as:
Yachts don't carry VCR tapes anymore, nor do any of them even have to have DVDs and CDs with the new high-tech digital media systems onboard. (Times they are a changin'.)
My reference to once using a FAX machine on a yacht back in 2000 is a detail we could probably omit. (Starting to feel old, I am.)
Referencing the Carnival Cruise Line commercials of-old with Kathie Lee Gifford dancing around and singing about a "Fun Ship" is unlikely to be familiar to anyone under 30 now. (I only referenced it for a joke about what vacations on yachts are NOT, but Diane and Kate told me no one would get my joke anymore.) <sad face>
Referencing Robin Leach and his Lifestyles of the Rich & Famous television show would also not be something people under 30 would know (but I didn't care—unlike the Kathie Lee Gifford example, I ignored the recommendation and left it in!).
Most yachts today have done away with things like remote controls and are now turning to Crestron units or iPads to control things like the lighting, temperature, and entertainment systems.
And the list goes on… Yes, seven years later, it is a very different world we live in—both within the yachting industry and beyond. Combing through the details was tedious, but it's all updated to 2013 standards…and hipness factor. ;-)
Another Exciting Development AND, Consequently, Addition to the Book
So I'm not gonna lie: I caught wind of the fact that Bravo TV was planning a reality show about yacht crew early on. In fact, I'd heard rumors about it dating back to 2010 and learned it was in the works in 2011-12. So, when Bravo announced in April 2012 that Below Deck was to hit the television air waves sometime in that near future, it occurred to me it might be time to re-release The Insiders' Guide. I mean, let's face it, aside from needing to address all the aforementioned updates and additions, the fact that a piece of work I put so much effort into might actually be able to reach a wider audience this time was pretty exciting.
To continue reading about how the announcement of Below Deck not only motivated me to get moving on a 2nd Edition to The Insiders' Guide in late summer of 2012, but also to learn about what happened in late spring of 2013 when the manuscript was nearly wrapped, click here: Below Deck's Connection to "The Insiders' Guide to Becoming a Yacht Stewardess 2nd Edition"…
And here's a hint: