A big thanks to Scott Jones of Fox 59 WXIN Indianapolis for a great interview on Sunday, August 18, about the re-release of "The Insiders' Guide to Becoming a Yacht Stewardess." Not only was Julie Perry interviewed about her book, but also the fact that chief stewardess and reality star Adrienne Gang of Bravo's Below Deck was coming to Indianapolis to join Julie for TWO Barnes & Noble book signings, and for a #BelowDeck viewing party that Monday night.
From the Fox59 Website: Thanks to Bravo TV's new reality show "Below Deck" people are starting to take note of what was previously an unheard of career, but Indy-native Julie Perry is no stranger to life as a Yachtie. In the 2nd edition release of her book, The Insiders' Guide to Becoming a Yacht Stewardess, she reveals humorous confessions from her time as a yacht stew, and details how to really make it in the industry.
Transcript from the Interview:
Scott >> …Living "below deck," a new show on Bravo chronicles the lives of stewardesses on the yachts of the rich and famous. That is the life that one Hoosier knows all too well. Joining us this morning is Julie Perry; she is the author of The Insiders' Guide to Becoming a Yacht Stewardess.
Julie >> Yes, the original, first edition came out in 2006, and the 2nd edition was just released August 1, 2013.
Scott >> Now, how did you get involved with this in the first place?
Julie >> Friends in Indianapolis, believe it or not! The Sputh family. Ted Sputh, or Captain Ted Sputh we should say, and his sons Carl and Ryan have been in the industry for years. Ted's been a yacht captain for over 30 years. And I was doing some work for him. And Carl Sputh (his son), who went to North Central High School with me, got into yachting straight out of high school. He left here and ended up becoming a deckhand, and then made his way up to a First Mate position, and the next thing you knew, he was the youngest yacht captain in North America, taking charge of a 114-foot yacht and sailing it around the world. [Click here to read the full story of how Julie got started as a superyacht stewardess through her friends the Sputh family.]
Scott >> Yes, I was going to say, Indiana is a little bit on the landlocked side, so that's pretty unusual.
Julie >> I know! Well you would be surprised at how many Hoosiers are yachties, even though this is a landlocked state. In fact, the Sputh family I credit for being the ones to get all of us involved. And there was another girl that went to North Central with me, Jill Smith; she had gone before me. And I would hear all their amazing stories about traveling with these rich and famous people on these gorgeous, glamor vessels, and the destinations they would go to. And they convinced me to give it a shot. So, I went down to Fort Lauderdale and went about the steps that I talk about in my book to land a job… So that's what the book is about: It's about how to get into the industry, what it's all about, it's about the yachts, it's about the people travel on them, the places where you travel… And it's about all the work that you have to do as a yacht stewardess.
Scott >> I imagine it's a lot of work! And I've seen some of the previews where it does look at times, at least for you guys in your quarters, like it was a little bit cramped… But can you tell us a little about what it is like on there with the rich and famous? Any dirt or anything like that you can share?
Julie >> Well, you know, the subtitle of the book is, "Confessions From My Years Afloat with the Rich and Famous." Although, I respect the industry a lot and I respect the people who own these yachts, and so I don't really dish a lot of juicy details. Maybe someday there'll be a fictional tale. Meanwhile, in this book, I do tell a lot of confessional, anecdotal-type stories. It is a bit of a hybrid. It is a how-to guide, but I also say it's a travelogue. And I like to say it's a little humorous, too. It's a little tongue-in-cheek at points.
Scott >> Now this is also how-to book. Would you really suggest someone else do this if they're the right kind of person?
Julie >>  Absolutely, it is an amazing career. I highly recommend the yachting industry. For young adults, or even people who have been in a career for awhile and are looking for a change or to do something adventuress. There are a ton of opportunities. The money is fantastic. And there are incredible perks. I mean, you're traveling the world and visiting destinations that you would probably never be able to afford on your own.
Scott >> And a few good views as well, too. Alright, again, The Insiders' Guide to Becoming a Yacht Stewardess: that is the book. And there is a signing coming up right?
Julie >> Yes, Adrienne Gang, who is the chief stewardess on the Bravo show (and who also wrote the Foreword to the 2nd Edition of The Insiders' Guide) comes in town today, and tomorrow (Monday, August 19) we will be at Barnes & Noble at the Shops at Rivers Crossing in Keystone from 5:00 to 8:00 for a book signing. And then at 8:30 we are having a "Below Deck" viewing party at The Ale Emporium at 82nd and Allisonville Road. We invite everyone to come out, meet Adrienne, and watch the show.
Julie >> And then on Tuesday (August 20), we will be down in Bloomington at the Barnes & Noble near the Indiana University campus. I really want to reach out to college students. I think that's who my target market most likely is. But anyone that is watching the show and is fascinated by the world of luxury megayachts and superyachts I think would find interest in the book and the different stories  I tell about what life is like onboard, and the people who travel on them.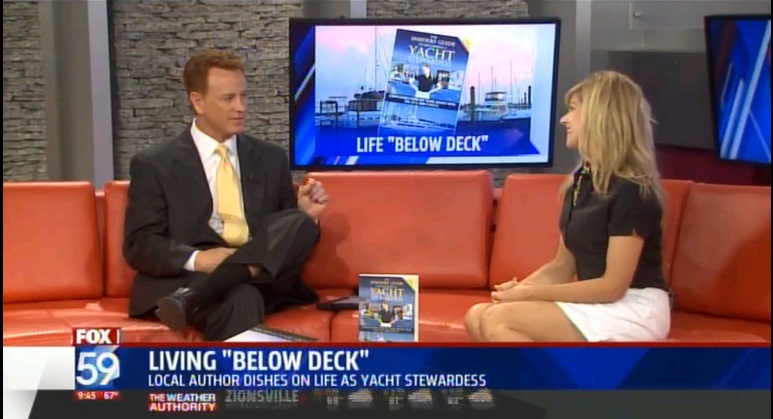 <END>



I appreciate Scott & the local Fox station for helping me get the word out to future yachties in my hometown of Indianapolis. And we were thrilled to have Adrienne Gang here in Indy for several days.