To Move or Not to Move? There Is Little Question. (MOVE!)
I get this question all the time from wannabe crew who feel they're ready to make the leap into yachting:
But do I have to actually pick up and MOVE to a hiring port—as in, not plan on coming back to my home?"
Let's get one thing straight right now: Pursuing a job as a yacht crewmember means opting for a life away from home… period. If you want to work in this industry, you will be leaving your current place of residence no matter what. Enough said there.
The next line of business: When I talk about "moving" to a hiring port, I only mean temporarily. The hiring port you choose to "inhabit" is simply where you go to complete your STCW safety training, meet face to face with crew placement agencies, remain on-hand to interview with captains, and subsequently, get hired as a yacht crewmember. You are not going to be apartment hunting, signing a lease, registering for a driver's license, or any of the other tasks that typically accompany a move to a new city.
If you play your cards right, you may only need to be "on location" in a hiring port for one, possibly two months—and far less depending on the season and location. So, while packing up and changing cities is normally a major ordeal, in this case, look at it as simply making a pit stop on the way to your final destination: your new job aboard a luxury yacht.
There are certainly ways around doing an all-out move right at the beginning. If you want to "test the waters" a bit (a horrible pun!), take a mini-trip or vacation to one of the hiring ports I list below and check out the scene. One- or two-day "Introduction to Yachting" courses or the first modular of the STCW Basic Safety Training Course (which can be taken à la carte) should give you a clear indication of whether or not you dig this kind of work. Plus, there are a number of schools around the world that offer STCW training, so if a course is offered near where you live now, you could get that knocked out before making any final decisions on a long-distance move.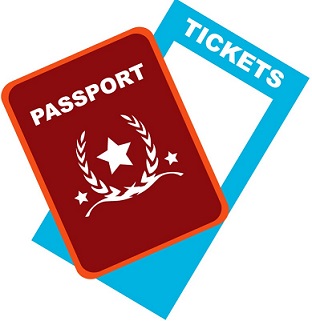 Otherwise, once you are indisputably ready to commence your job search, you need to make yourself physically available in a main hiring port (see the lists further below). This is a fast-paced industry, and quick crew turnover between seasons often requires that jobs be filled in a hurry. Once a job offer is accepted, it can often be a "can you start tomorrow?" situation, with little preparation time on your part.
Moreover, as soon as your STCW training is complete, you can start interviewing for jobs. In fact, some job seekers start interviewing even while they are taking this required course. If you've read The Insiders' Guide to Becoming a Yacht Stewardess, then you know the preferred schools for obtaining your STCW certification and other stewardess-specific training courses are in these main hiring ports, so if you want those courses to have immediate payoff then why not go at this wholeheartedly?
And while crew recruiters can meet you on an exploratory pre-move trip, every captain or chief stew looking to hire you will want to interview you in person, if not take you to meet his or her entire crew to see if you're a good fit. For an entry-level position, do not expect anyone to fly you in for an interview. That happens with experienced crew, but as a novice, your chances are slim to none. It is to your advantage to be in port. Captains want you to be available immediately.
In The Insiders' Guide to Becoming a Yacht Stewardess, I spend quite a bit of time covering day working and how this can benefit not only your job search, but also your wallet. Once you've read through that, I think you might be more willing to accept my suggestion to move right away as the best option. You can always move back home if you do not find a job in a sufficient time period for your circumstances. But what I wouldn't do is count on having one month between the time you are hired and the time you start work to return home and "get ready" to go. If you manage to negotiate any time to "return home" before starting a job, it might only be a weekend.
The main point I am trying to make is that, if you have the financial and personal wherewithal to do so, head to one of these locations, and do it all at once. It bears repeating: You are not going to find your first job in the yachting industry without physically getting yourself to a main hiring port.
Here's how you make that leap of commitment:
Start planning to leave your current living space.
Store those major belongings with family or in a rental space.
Pack your bags (don't worry, I tell you everything you need in my book).
Buy that one-way plane ticket. And don't forget your passport.
Get to where it all happens, and make it happen!
See, now wasn't that easy? Seriously though, it takes huge commitment and a lot of courage and determination. While my blog and book offer solid advice and instruction on the steps it takes to land a job, that first brave step is all you.
INSIDER TIP: Choose one of the four (4) recommended main hiring port destinations for the easiest and fastest means of breaking into the yachting industry.
Hiring Port Options
Go where the boats are. For higher-echelon job seekers with tons of experience —say, a captain, a chef, or a chief stew with a really good reputation— they can be anywhere and get hired. But for the rest of them, especially novices, they've got to be where the boats are.… They are not going to get hired unless they go where the boats are. Most all the clients I have are not going to hire somebody sight unseen."
—Lynne Cottone, Crew Placement Specialist with Luxury Yacht Group
Four Best Yacht Crew Hiring Ports
Here are the four best choices for your starting spot:
Fort Lauderdale, Florida
Antibes, France
Palma de Mallorca, Spain
Newport, Rhode Island
Now, notice I am talking about your "best" options. That's not to say that there aren't other places in the world where you could find a job in yachting. However, these four locations are the hiring hotspots and will offer far greater access to quality job opportunities for individuals just entering the industry.
Click here to find crew housing options in the above ports.
Here are some of these additional choices where it is certainly not unheard of to find work:
Second-Tier Yacht Crew Hiring Ports / Locations
The following is a list of what I'll term "secondary" options for worthwhile hiring ports. Megayachts pass through these destinations, but just not in vast numbers or as frequently as with the list above. These are places that have STCW-recognized training schools, or at least some crew-recruitment agencies in the area, so you can get take your STCW certification and register with a placement service before heading to where more boats are located:
St. Martin/St. Maarten in the Caribbean
Dubai, United Arab Emirates
Sydney, Australia
Auckland, New Zealand
Antigua in the Caribbean
San Diego, California
Viareggio, Italy
Third-Tier Yacht Crew Hiring Ports / Locations
And while they may not be the key spots for finding an actual position, the destinations below can be considered a third tier. Experienced crew tend to do okay basing themselves in these locations, but I do not recommend them for entry-level job hunters. For some individuals, however, these locations may be the only option due to proximity and the inability to travel far:
U.K.—London, Southampton, and Dover
The Netherlands
Sweden
The Bahamas
Singapore
Croatia
Brazil
Above I tell you where you need to move to get hired. The next question you're probably asking is "when?" Sure enough, that's what I talk about in Part 2 of this series on Yacht Crew Hiring Ports.
Stay tuned, or simply pick up a copy of my book, The Insiders Guide to Becoming a Yacht Stewardess, which devotes six full chapters on how to get hired as superyacht crew. This information will be useful for anyone trying to obtain work on a yacht, whether you are looking for an entry-level yachting position as a deckhand, steward or stewardess, chef, or even an engineer.
In fact, if you wish to take a few steps back and get a better idea about the superyacht industry—what its all about, who owns and travels aboard megayachts and superyachts, where they travel, and even what they're like inside—feel free to download Chapter 1 for free here.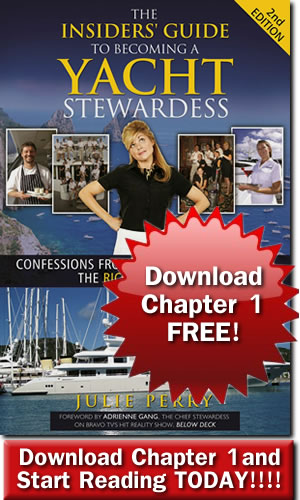 Click here for Part 2.